Новости
Today
International KAMWA Festival 2014
23.08.2014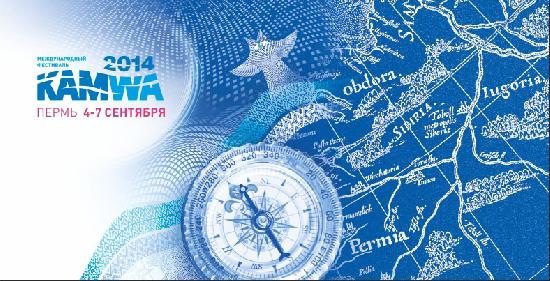 For the ninth year running, KAMWA is inviting residents and guests of Perm to dive in its festival flow. This year, the festival will take place on September 4 – 7.
This year, the festival features Art, Theatre and Music. During the four days, the participants will create a unique space filled with mythology and original stories with an emphasis on the authentic tradition.
ART – from ethnofuturism to technoart.
Artist Pavel Mikushev (Komi Republic) takes the viewers into the space of ancient mythology (exhibition "Up in the Sky, down on the Ground and under the Water at Maris Art gallery). Perm technoartists sculptors Rustam Ismagilov and Roman Zheltyshev decorate the Festival Club with installation s and labyrinths.
THEATRE – from ethnoperfomance to engineering theatre.
Words, dance, music and images will merge into a easily comprehensible flow in the multi media performance "Dance on the Tightrope of the Soul with the Sun of the Spirit" (Moscow) by Nazim Nadirov, Mokhsira and Jema Nishanova. Another musical performance is "The Stolen Voice" with elements of puppet theatre by Yulia Surba (Germany). Perm Mimicry Theatre will show the story of an ancient land in their performance "Cherdyn Goddesses". The avant-garde and meaningful puppet project "Mr Carmen" by AXE, a unique Russian engineering theatre, is the headliner of the theatre part of the festival.
Music – from authentic music and folklore to fusion and electronic music.
Hapanasasa – an electronic project from Kazakhstan, mediators between the cosmic and the world of people; Delta-Omega – an experimental indi-electronic project from Perm; UUZALGA – an encounter of the musical cultures of Buryatia and France; Tripless (Moscow) – a voyage in the cosmic space of the sound; DJ set Aleks Zubkerman (Murmansk) – a laboratory of experimental music, IDM style balalaika, ambient, dubtechno, abstactlooping.
Nadishana-Kuckhermann-Metz (Germany) - the hang, percussion, wind instruments and bass;
Oratnitza and Kipri (Bulgaria) – new authentic music with Bulgarian flavor, with elements of hiphop and dubstep. Chalama and Radik Tyulyush – headliner of the project. Radik Tyulyush is the youngest singer of Huun-Huur-Tu, a band playing traditional Buryat music.
Another guest is the singer Inna Zhelannaya, a constant participant and friend of the Festival.
KAMWA 2014 is a festival addressed to everyone. Personally.
The portal of the Scena Molot theatre hosting unique avant-garde concerts and performances is for the fans of progressive art; the visual portal at the Maris Art gallery is for the fans of artistic mythology; and the Gorky Park and Yunost Stadium are an open portal for all those who love Perm, carnival and KAMWA festival.
The final day of the Festival is the traditional open air event featuring the Autumn Fair, Art Cycling Parade, Hand Made Fair, a carnival show and a gala concert of all participants of KAMWA 2014.